09/30/2013 - Hudson Continuous Integration in Practice Book, Now Available
Hudson project lead Winston Prakash, along with established author and JSF Spec Lead Ed Burns, have just completed their collaboration on a great guide to using and extending Hudson.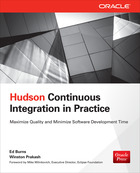 The book is available now and you can read more here.
09/20/2013 - Hudson 3.1.0 is Now Production
The Hudson project team is proud to announce the availability of Hudson 3.1.0. This new release adds the new team support feature and provides significant improvements in scalability.
03/22/2013 - Hudson 3.0.1 Released
The 3.0.1 patchset release of Hudson is now available. This is a minor release, mainly consisting of bugfixes for the Hudson 3.0.0 release. Details of the fixes and minor new features can be found on the ChangeLog
03/05/2013 - Hudson Public Meeting
The next public Hudson community meeting will take place on Monday 11th March 2013. Dial-in information including the agenda is here. Feel free to add your own topics and join the call on the day, all are welcome!
12/21/2012 - Hudson 3.0 Released
The first production Eclipse version of Hudson (3.0.0) is now available for download from the downloads page.
12/12/2012 - Hudson has Graduated!
Great news, Hudson has now moved out of incubation and the release of Hudson 3.0 is approved
10/23/2012 - Hudson iPhone App
A new iPhone application for monitoring your Hudson installations, the Hudson Mobile Monitor, is now available from iTunes (and coming to Android soon!). Read more at the Hudson Blog.
10/16/2012 - Hudson Best Practices Presentation
Winston and Duncan's Developing Best Practice with Hudson paper delivered at JavaOne 2012 is now available!
09/24/2012 - Logging Issues for Hudson
In accordance with the Hudson Community meeting of September 24th the old issues.hudson-ci.org repository is being retired. All new issues in Hudson core should be logged here at Eclipse against technology.hudson. Issues with plugins should be logged in the respective GITHub projects(Hudson 2.n Plugins / Hudson 3+ Plugins).
Hudson has now graduated from incubation and has released it's first production version under the Eclipse Foundation banner. Information about the project can be found here in the Eclipse wiki as well as on the main Hudson-ci WebSite for the older non-Eclipse downloads and plugins