In this issue of the newsletter, we will look at how Maven, Tycho, and Gradle can be used from inside Eclipse.
The Mars Democamps are about to start! Check the list to see if one of them is hosted near you.
EclipseCon France is only a month away! Be sure to register soon, space at the venue is limited.
Enjoy,
Roxanne
Editor
@roxannejoncas

Eclipse & Gradle - The best of both worlds coming together.
Read more
Discover all the build services Eclipse projects get to use for free!
Read more
What you need to know about bringing Eclipse and Maven together through M2Eclipse.
Read more

USER SPOTLIGHT

| | |
| --- | --- |
| | itemis |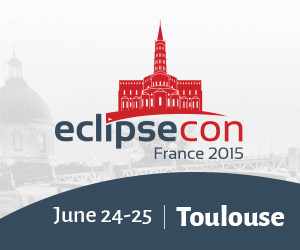 Stefan Naef

Leonardo Postacchini

Partha Puskur

Johannes Wachter

Gautam Priya

Louise Gunderson

Duncan Gray

ViaOA, Inc

Jennie Sadler

Partha Puskur

Yixuan Zhang

Eugene Strulyov

James Pretorius

Mike Surbey

Penbase

František Kováč

Li-Chih Singer